Fun Halloween craft to do with your child.  This shop has been compensated by Collective Bias, Inc. and its advertiser. All opinions are mine alone. #ThinkOutsideTheWipe #CollectiveBias 
Fall is finally here, the sight of pumpkins everywhere gets me so excited!  The breath of fresh air relaxing, I love it.  My daughter has been looking forward to Halloween for a while now, she's so excited about going to a pumpkin patch.  Last year we took her to a popular one in Nebraska and she's been talking about it ever since.
Plus, we get to create so many Halloween crafts at home!  We have an art station, I neatly organized it so my four year old can easily grab paint, brush, paper, basically anything she wants to express her creativity.  My husband looked at me a little crazy the day I set it up, expecting to come home to a home with painted walls! But over the years, I've come to accept that messes happen.  Children get messy whether they're eating or playing.  It's part of life, a learning experience for them.  As parents, we should encourage them and not get upset if they get dirty, life is messy with kids.  Embrace the messes and just smile.  Years from now you'll remember your children laughing and playing with paint, not the stains on the clothing or walls.  Encourage playing and simply savor life.
I'm glad I discovered Huggies® Cleansing® Wipes, they gently wipe away germs with aloe, so you can safely use them on little hands and faces without the worry of harsh chemicals.  Both my kids have sensitive skin and I don't have to be concerned about any skin irritations when using Huggies Cleansing Wipes.  They are perfect for any messy occasion.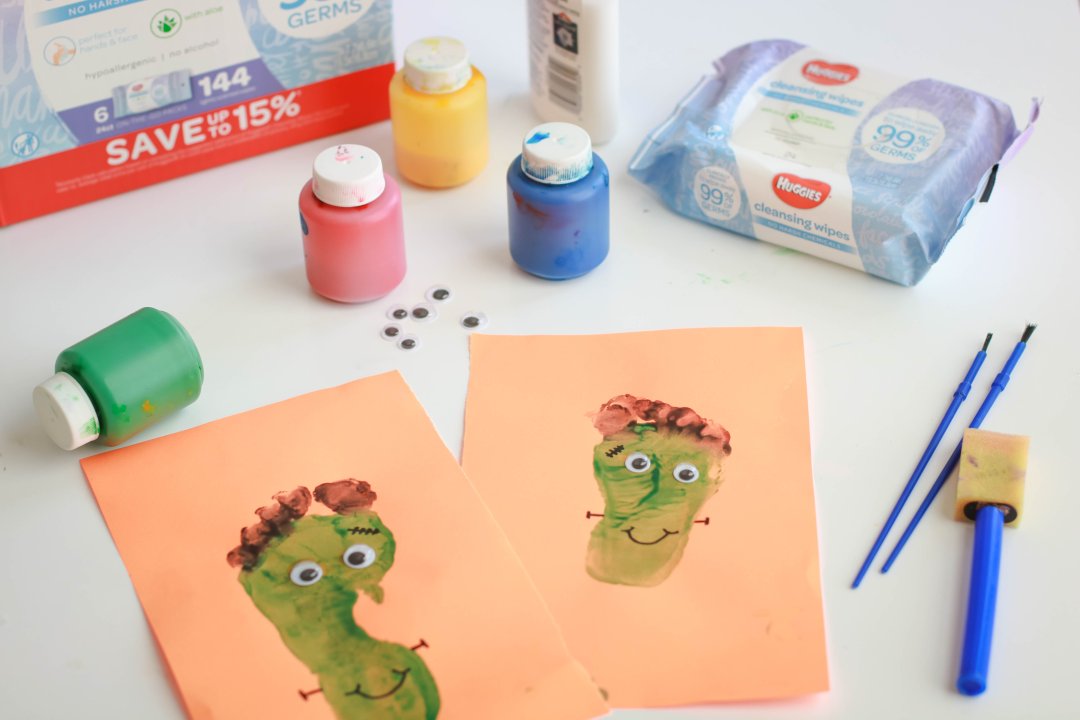 Try Huggies® Cleansing® Wipes for yourself! Hover over the photo to click through to Samsclub.com and buy them!    
Huggies® Cleansing® Wipes
can easily be found at 
Sam's Club
in the baby care aisle.  We recently became members, I honestly don't know why we didn't do this sooner!  You can buy everything you need in bulk and save money.  I love their Scan and Go service, it's a huge time saver.  Just download the app, scan your items, and you're out.  No more having to wait in line!
Frankenstein Craft
Thinks you will need for Frankenstein Craft:
construction paper (we used orange)
googly eyes
glue
paint (red, blue, yellow + green)
black marker
paper plate
paint brushes
foam paint brushes
apron
Mix red, blue, and yellow paint on paper plate.
Paint the toes black (or purple in our case) and the rest of the foot green.  Stand your child on the piece of construction paper and gently push down on all the piggies and foot.
Of course, my four year old wanted to do it all by herself!
Wait for the paint to dry then glue on the googly eyes.
Add a stitch and smile to the friendly Frankenstein.
Make sure to let your child sign her work of art, I've been doing this even before my daughter learned how to write her name.  Just hand over a crayon, or marker if you're feeling brave, and let your child scribble away.  Don't forget to date it!
Have you gotten started with getting in the Halloween spirit?  I'd love to hear some of your craft ideas, comment below and share!